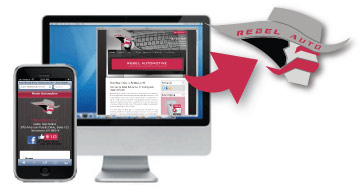 Rebel Automotive, a full-service auto repair shop, is ready to provide vehicle owners in the Henderson, NV area with quality auto repair services at affordable prices! Along with their ASE-certified technicians, nation-wide warranty, towing and shuttle services, they offer Rebel Club members the benefits of their free Arcade and Professional Suite, together with special discount offers. Read more for details.
Henderson, NV (Rebel Automotive) February 2013
The owners and staff of Rebel Automotive are happy to announce the launching of their newly designed website. Vehicles owners in Henderson, NV, and the surrounding communities can now elect to receive special discount coupons, good car care tips, schedule an appointment with a qualified mechanic, and have their questions answered about car problems directly from the dynamic pages of this exciting website. Their auto repair customers will be informed of current vehicle maintenance topics, as well as new and innovative advancements in automotive services and industry regulations.
READ MORE